left atrial appendage closure using Amulet
Atrial fibrillation, an irregular beating of the upper chambers of the heart, is the most common heart rhythm in people, and those with atrial fibrillation have a stroke risk 5x the average. In nearly half of patients, atrial fibrillation is without characteristic symptoms. Anticoagulation medications, such as warfarin/Coumadin™, Pradaxa™, Xarelto™, Eliquis™, Savaysa™ are also commonly referred to as 'blood thinners', and have been the mainstay of stroke risk reduction for decades. In those with atrial fibrillation, anticoagulants are taken for the purpose of preventing blood clot formation in the heart, specifically the left atrial appendage, so as to reduce the risk of stroke. At the same time, anticoagulation medication may increase risk of bleeding complications, and in those that find that anticoagulation medications can be difficult to tolerate or risky.
Whether it be because of a prior episode of major bleeding, or in those who desire to avoid anticoagulation because of the risk of minor bleeding (such as unsightly bruising or easy bleeding), or concern about the risk of trauma (such as those with increased risk of falling, or those with an active lifestyle), an alternative may be more desirable. It has been demonstrated since the 1960s, that surgical removal, or isolation, of the left atrial appendage, similarly reduces the risk of stroke. Indeed, surgical guidelines suggest that all patients undergo open heart surgery undergo left atrial appendage closure at the time of surgery. Not everyone wants to undergo surgery for the purpose of coming off anticoagulation medications.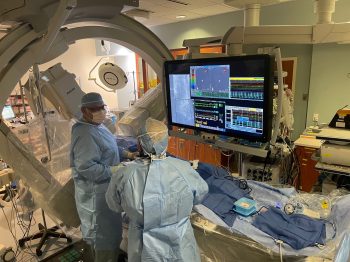 Indeed, an alternative is here, and available at Sarasota Memorial Hospital. Left atrial appendage occlusion using a minimally invasive approach, delivered through a catheter placed in a vein in the groin, has been demonstrated to have equivalent stroke risk reduction as anticoagulation medications, with a significant reduction in major bleeding complications, and survival benefit. Following left atrial appendage occlusion, and discontinuation of anticoagulation medications, patients live longer. Left atrial appendage occlusion is a one-time procedure that lasts a lifetime.
Dr. Eckart was the first to implant the commercially available Abbott's Amplatzer Amulet left atrial appendage occluder in Sarasota.
Implant procedure generally takes less than 15 minutes, and can be done as an outpatient, or for those desiring to spend the night, that is easily arranged. Depending on the type of left atrial appendage occluder utilized, patients will be off anticoagulation within 6 weeks after implantation, and will generally remain on antiplatelet therapy (such as aspirin, Plavix™, or Brilinta™) for 4-6 months afterwards. Left atrial appendage occlusion is fully covered by Medicare and most commercial payers.
There are those that should not undergo catheter based left atrial appendage occlusion, such as those with a mechanical prosthetic valve or those that require anticoagulation medications for reasons other than atrial fibrillation, such as those at elevated risk for deep vein thrombosis (DVT) or pulmonary embolism, as well as those with known hypercoaguable conditions. In those cases where the left atrial appendage is not suitable for closure (<1%), or in those that cannot take either anticoagulation or antiplatelet therapy, a minimally invasive surgical approach to left atrial appendage can also be orchestrated through a thoracoscopically delivered AtriClip. As with any procedure, left atrial appendage occlusion has risks, and the risks of the procedure must be balanced by the risk of alternatives.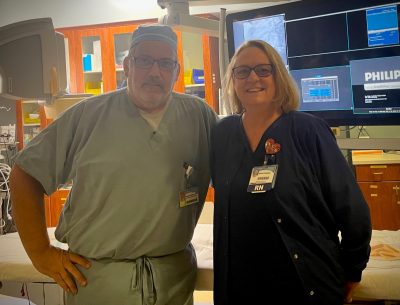 Dr. Eckart and Nancy Anthony, RN
Ask your provider as to the role of left atrial appendage occlusion, and if referral to Dr. Eckart should be considered. Alternatively, contact Nancy Anthony, RN, at 941-225-6031, for a direct referral. We offer both in office and televisit consultation.
*NOTE – The opinions expressed here are not to be construed as medical consultation, and are the sole opinion of Dr. Eckart and Heart Specialists of Sarasota. Guidelines and indications are rapidly changing, and ultimately, it is not until formal consultation that the best recommendations can be formulated.