Cardiac Catheter Ablation Procedures
Cardiac catheter ablation is a minimally-invasive procedure performed to treat heart rhythm disorders. Radiofrequency energy (heat), a laser or nitrous oxide (extreme cold) is applied through the catheter tip to the abnormal heart tissue. The energy destroys (ablates) the abnormal heart tissue causing the heart rhythm disorder. Catheter ablation is performed by electrophysiologists. Several types of catheter ablation may be performed, depending on the cause and severity of the patient's heart rhythm disorder. Many types of heart rhythm disorders may be treated successfully by catheter ablation.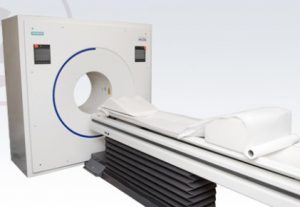 Cardiac P.E.T. (Positron Emission Tomography)
Cardiac P.E.T. (Positron Emission Tomography) is one of the newest, most advanced methods for physicians to study the heart. (insert info on HSS offering Cardiac PET) P.E.T. scans are non-invasive and painless. They unveil the function/physiology of organs and tissues, while other imaging techniques (e.g., x-ray, MRI, and CT scans) only show structure. These studies can reveal the health of the vessels supplying blood to the heart, heart muscle and surrounding tissue. With P.E.T. imaging, physicians can evaluate areas of the heart muscle that are not receiving adequate blood flow due to blockages in the arteries, detect coronary heart disease, assess tissue scarring due to a heart attack, and determine if bypass surgery or angioplasty will benefit a damaged part of the heart.
How it works: Rubidium-82, a radioactive tracer that is injected into the patient's arm. The blood stream carries the tracer to the heart muscle which produces an image of the blood flow in the heart. A special P.E.T. camera detects the emitted positrons and constructs a picture of the heart.
What you should expect: Your test should take about 60 minutes to perform. Your medical history and medications will be reviewed and a consent form will be signed. Before the study begins, you will be asked to lie still on the P.E.T. imaging table. The table will be positioned into the scanner and a quick scan will be obtained to ensure the patient's heart is positioned properly in the P.E.T. camera's field of view. An intravenous line (IV) will be placed in your arm or hand to administer the pharmacologic agent and tracer. Electrodes will be placed on your chest to monitor your heart throughout the procedure. You will lie on a bed and the bed will begin to pass slowly through the P.E.T. scanner.
A nuclear tracer will be administered intravenously in your arm or hand. You will receive an injection of a pharmacologic drug that increases blood flow through the normal arteries. However, the blood flow will not be increased in arteries that are blocked or in tissue that is damaged. The differences in blood flow are detected by the P.E.T. scanner, which creates a picture of the blood flow to the heart tissue.
Helpful facts:
a) Cardiac PET imaging demonstrates excellent diagnostic accuracy, with improved sensitivity and specificity, compared with Cardiac SPECT, which was confirmed by two recent meta analysis studies. 1,2
b) Superior image quality due to higher spatial resolution and higher tracer energy levels. This results in higher interpreter confidence and fewer false positive studies compared with Cardiac SPECT. This is true in all patients, but especially in obese patients or patients with large body habitus. 3,4 Fewer false positive studies will result in fewer patients referred for normal cardiac catheterization.
c) Cardiac PET imaging with rubidium allows studies to be required with low radiation exposure. The overall patient radiation exposure with Cardiac PET imaging is one quarter of Cardiac SPECT perfusion imaging. 4,5,6 The markedly lower radiation exposure with Cardiac PET has significant beneficial public health implications.
d) The testing protocol is much shorter than Cardiac SPECT (45 minutes compared with 3.5 hours), providing greater laboratory efficiency and higher patient satisfaction.
Cardiovascular Examination
When you schedule your examination with one of our physicians, you will be scheduled to have a complete cardiovascular examination, which will include assessment of your blood pressure, pulse rate and regularity, respirations and general body habitus. Your examination will also include a complete assessment of the peripheral vascular system which may include in office testing such as EKG, Echocardiogram, Carotid Study, and possibly cardiac stress testing.
Cardioversion
Cardioversion is a medical procedure performed to restore a normal heart rhythm for people who have certain types of abnormal heartbeats (arrhythmias). Cardioversion is most often performed by sending electric shocks to your heart through electrodes placed on your chest. Rarely, your doctor may perform cardioversion using only medications to restore your heart's rhythm.
Carotid Angiography and Stenting
Carotid angiography, also called carotid angio or an arteriogram, is an invasive x-ray imaging procedure used to detect the presence of narrowing or blockage (atherosclerosis) in the carotid arteries. Carotid angiography may be performed when carotid artery disease is suspected, based on the results of other tests, such as a carotid duplex ultrasound, computed tomography angiogram (CTA) or magnetic resonance angiogram (MRA). Carotid stenting offers a less invasive approach than carotid endarterectomy, the traditional surgical treatment for carotid artery blockages. The carotid angioplasty and stenting procedure increases blood flow to the brain and decreases the risk of a stroke.
Coronary Angiogram/Angioplasty/Stent
An angiogram is a special type of X-Ray using dye to show if there is narrowing of the coronary arteries. The coronary arteries supply the heart with blood. Narrowing or blockage in these arteries can cause chest pain (angina) or heart attack. This test can also detect problems with the heart valves, or the pumping action of the heart. The result of the test will help your cardiologist plan the best treatment for you. If the test shows a narrowing or blockage, it may be treated with coronary angioplasty/stenting or bypass surgery.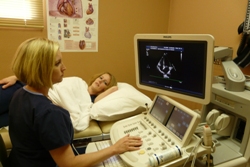 Echocardiogram (Echo)
An echocardiogram is a non-invasive test that uses sound waves (ultrasound) to image the structures of the heart. During an echocardiogram, an ultrasound technician uses a small, hand-held scanning device to direct sound waves at your chest area. The sound waves bounce off the heart and create an "echo" that is translated into a graphic video that your cardiologist will review for diagnostic purposes. These images help the cardiologist learn more about your heart's size and function.
An echocardiogram is a valuable diagnostic tool that is performed to:
Assess the overall function of the heart's valves and chambers.
Evaluate the size of the chambers of the heart, which can change with conditions such as hypertension, heart failure, valvular disease, and damage from a heart attack.
Evaluate the effectiveness of drug therapy or cardiac medical procedures.
Detect fluid, tumors or blood clots in specific areas in and around the heart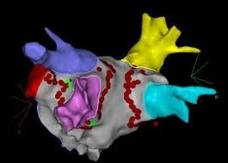 Electrophysiology (EP) Studies
Arrhythmias, by their very nature, are unpredictable and intermittent, which makes it unlikely that an ECG or electrocardiogram will capture the underlying electrical pathway problem. Even tests that stretch over longer time lengths, such as Holter monitoring, may not capture an event. During an EP study, a specially trained cardiac specialist may provoke arrhythmia events and collect data about the flow of electricity during actual events. As a result, EP studies can help locate the specific areas of heart tissue that give rise to the abnormal electrical impulses that cause arrhythmias. This detailed electrical flow information provides valuable diagnostic and, therefore, treatment information. EP studies most often are recommended for patients with symptoms indicative of heart rhythm disorders or for people who may be at risk for sudden cardiac death.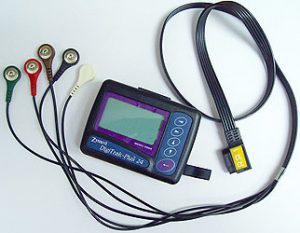 Heart Monitors
Holter and event monitors are small, wearable devices that record your heart rhythm. You usually wear a Holter monitor for one to three days and event monitor up to 30 days. During that time, the device will record all of your heartbeats.
A Holter or event monitor test is usually performed after a traditional test to check your heart rhythm (electrocardiogram) isn't able to give your doctor enough information about your heart's condition.
A Holter and event monitor has electrodes that are attached to your chest with adhesive and then are connected to a recording device. Your doctor uses information captured on the monitor's recording device to figure out if you have a heart rhythm problem.
Although similar, Holter and event monitors aren't the same. A Holter monitor records your heart's electrical activity the entire time you're wearing it. An event monitor only records your heart's electrical activity at certain times while you're wearing it.
While wearing these monitors may be a little inconvenient, it's an important test that may help your doctor diagnose your condition.
Implantable Cardioverter Defibrillators (ICDs)
Implantable cardioverter defibrillators (ICDs) are small devices, about the size of a pager, that are placed below the collarbone. Via wires, or leads, these devices continuously monitor the heart's rhythm. If the heart beats too quickly, the ventricles will not have enough time to fill with blood and will not effectively pump blood to the rest of the body. Left unchecked, the rapid heartbeat could cause death.To intervene, the ICD issues a life-saving jolt of electricity to restore the heart's normal rhythm and prevent sudden cardiac death.ICDs also can act as pacemakers when a heart beat that is too slow (bradycardia) is detected.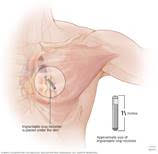 Implantable Loop Recorder
An implantable loop recorder is a type of heart-monitoring device that records your heart rhythm continuously for up to three years. It records the electrical signals of your heart and allows remote monitoring by way of a small device inserted just beneath the skin of the chest.
An implantable loop recorder can help answer questions about your heart that other heart-monitoring devices don't provide. It allows for long-term heart rhythm monitoring. It can capture information that a standard electrocardiogram (ECG or EKG) or Holter monitor misses because some heart rhythm abnormalities occur infrequently.
For example, if you have a standard ECG to help figure out why you're having fainting spells, it will only record any related heart rhythm abnormalities during the few minutes of the monitoring period — usually about five minutes. Because an implantable loop recorder monitors your heart signals for a much longer time, it's more likely to capture what your heart is doing during your next fainting spell. This information may help your doctor make a definite diagnosis and develop a treatment plan.
Implantable loop recorders are one of the newer heart-monitoring devices. Researchers have evaluated their safety and benefit over the last 10 years. A study of 579 people with fainting spells showed that implantable loop recorders had a higher rate of diagnosis of heart rhythm problems than did other monitoring devices.
Researchers also examined the value of implantable loop recorders in people who had a stroke. Long-term heart monitoring uncovered heart rhythm problems that caused the stroke better than 24-hour monitoring did. Doctors used these results to guide treatment with blood-thinning drugs (anti-coagulation therapy) to prevent another stroke.
Watchman
WATCHMAN is a one-time, minimally invasive procedure for people with atrial fibrillation not caused by a heart valve problem (also known as non-valvuar AFib) who need an alternative to blood thinners. - Watchman.com
Permanent Pacemaker Implantation
A Pacemaker is a small device that sends small electrical impulses to the heart muscle to maintain a suitable heart rate or to stimulate the lower chambers of the heart or ventricles. A pacemaker may also be used to treat fainting spells (syncope). They can also be used to treat congestive heart failure. There are several different types of pacemakers: Single Chamber Pacemaker, Dual Chamber Pacemaker, Biventricular Pacemaker. Your physician will decide what type of pacemaker you need based on your heart condition.
Renal Angiography and Stenting
Angiogram is an x-ray of the arteries. It is performed by puncturing the artery under local anesthetic, and injecting contrast (dye) to outline the blood vessels. A reduction in the blood supply to the kidneys can give rise to poor renal function and high blood pressure. The kidney arteries can become narrowed by atheroma (hardening of the arteries). In this case, the narrowed artery can be stretched with a balloon angioplasty and stenting to improve blood flow, this will help to reduce blood pressure and maintain better kidney function.
Stress Testing
A stress test can be used to test for heart disease. Stress tests are tests performed by a trained technician to determine the amount of stress that your heart can manage before developing either an abnormal rhythm or evidence of ischemia (not enough blood flow to the heart muscle).
There are many different types of stress tests, including:
Treadmill stress test: As long as you can walk and have a normal ECG, this is normally the first stress test performed.
Dobutamine Stress Test: This test is used in people who are unable to exercise. A drug is given to make the heart respond as if the person were exercising. This way the doctor can still determine how the heart responds to stress, but no exercise is required.
Nuclear stress test: This test helps to determine which parts of the heart are healthy and function normally and which are not. A small amount of radioactive substance (isotope) is injected into the patient. Then the Nuclear Medicine technologist uses a special camera to identify the rays emitted from the substance within the body; this produces clear pictures of the heart tissue on a monitor. These pictures are done both at rest and after exercise. Using this technique, areas of the heart that have a decreased blood supply can be detected.
Preparation for these types of stress tests will vary from preparation for the exercise stress test. Ask your doctor about any specific instructions.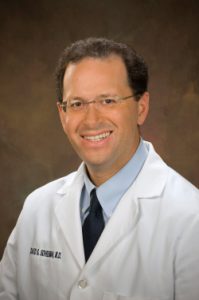 TAVR
Severe aortic stenosis is a narrowing of your aortic valve opening that effects the normal blood flow. Without treatment, people who experience symptoms from this problem die within an average of 2 years. If it is determined by the Heart Team that you are a candidate for this procedure, this less invasive procedure allows a new valve to be inserted inside your diseased valve while your heart is still beating. The TAVR (Transcatheter Aortic Valve Replacement) procedue is not right for everyone. Speak to your Heart Team to determine your candidacy for TAVR.
Dr. David Schreibman is one of the founding members of the multi-disciplinary TAVR program at Sarasota Memorial Hospital and has been performing this procedure since 2012.
Transesophageal Echocardiography (TEE)
TEE is extremely useful in detecting blood clots, masses and tumors that are located inside the heart. It can also gauge the severity of certain valve problems and help detect infection of heart valves, certain congenital heart diseases and a tear of the aorta. TEE is also very useful in evaluating patients who have had mini or major stokes as a result of blood clots. The procedure may detect the responsible clot inside the left atrium. How does TEE differ from a standard ECHO? The echo transducer is placed in the esophagus or food pipe that connects the mouth to the stomach. Since the esophagus sits behind the heart, the echo beam does not have to travel through the front of the chest, avoiding many of the obstacles. It offers a much clearer image of the heart, particularly, the back structures, such as the left atrium, which may not be seen as well by a standard echo taken from the front of the heart.
Vascular Imaging
The medical specialty of vascular technology utilizes diagnostic ultrasound to generate images of blood flow within the veins and arteries. Ultrasound uses high frequency sound waves, similar to the sonar that a ship uses to detect structures beneath the surface of the water. Vascular ultrasound can also be known as a Doppler or duplex study. For example, if your physician wants to make sure that you do not have a blood clot in your leg, he or she might order a venous duplex or venous Doppler examination. Vascular ultrasound procedures are noninvasive, meaning they do not require the use of needles, dyes, radiation or anesthesia and are, therefore, relatively painless and harmless.
The information obtained through vascular ultrasound examinations is extremely helpful to physicians in diagnosing a variety of conditions related to cardiovascular disease, disorders of the heart and blood vessels. Early detection of life-threatening vascular diseases is possible through the use of noninvasive vascular testing techniques performed within vascular facilities.